I designed the MICO Cinetic, a simple and intuitive universal midi controller specially to control the dynamics, expressions of plugins and Kontakt banks, to adding life and realism in your music.
Midi CC (Control Change) easily editable and saved in the controller without additional software.
With durable and quality components, 100mm slide potentiometers, Alps, anodized Aluminum knobs, multiple buttons.
Easily transportable, Plug & Play, USB powered
Recall differents settings on each midi channels from 1 to 5 :
For example purpose only, the controller comes with all channel assign like CH 1
Step 1 : Enter in EDIT mode
Step 2 : Move the control you want to edit CC number
Step 5 : Your control send new MIDI CC number now
You can save and recall différents settings on each midi channels from 1 to 5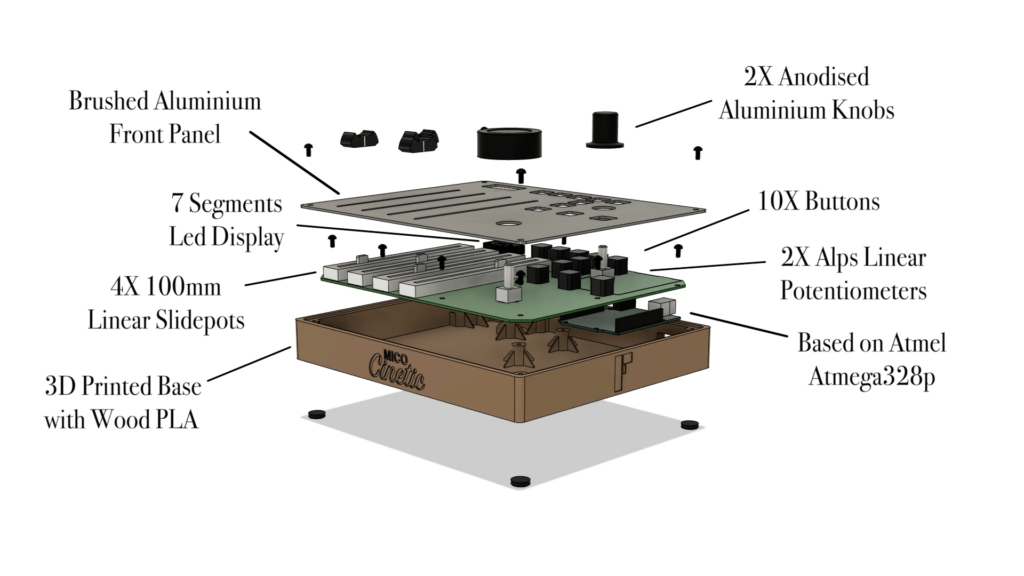 MICO Cinetic
Handcrafted Universal MIDI Controller specially designed to control dynamic expression in your Music

(Can work with all MIDI CC Assignable plugins/software)

Global MIDI CC stored in Memory : Edit & Recall Global midi CC from midi channel 1 to 5 
(All CC on Assignable Controls can be modified directly on Controller, no software needed) 
Controllers : 4X 100mm Linear SlidePots, 2X Alps Linear Rotary Potentiometers, 10X Buttons 
Assignable Controls : 4X 100mm Linear SlidePots, 1X Alps Linear Rotary Potentiometer, 3X Buttons 
(1 Momentary, 2 Toggle)
Display : 7 Segments Blue LED Display 14mm x 30mm 
Micro Controller : ATMEL ATMEGA328P (Arduino UNO)
Internal Memory : EEPROM 
MIDI : MIDI CC via USB (Control Change 0 to 127)
Power : USB Powered
Software : USB Class Compliant, Plug & Play, No Additional Software Needed
Compatibility OS : Windows, MacOS, iOS (Not Tested : Linux, Android)
Compatibility DAW : Live, Cubase, Logic, Pro Tools, FL Studio, Studio One, Reason, Digital Performer, GarageBand iOS Others Not Tested 
(No transport buttons : Play, Stop etc)
Box Contents :
MICO Cinetic midi controller, USB B Cable, 4Go USB 

key
with manual
Materials : 1,5 mm thick
Brushed Aluminium Front Panel, 3D printed Base in Wood PLA
Dimensions :  18,7cm X 22,2cm X 2,85cm / 7.36in X 8.74in X 1.12in
Weight : 640gr / 1.42lbs


All manufacturer and product names mentioned on this page are trademarks of their respective owners, which are in no way associated or affiliated with Ferdz. The trademarks of other manufacturers are used solely to identify the products of those manufacturers whose features were studied during the development. All names of equipment, inventors, and manufacturers have been included for illustrative and educational purposes only, and do not suggest any affiliation or endorsement by any equipment inventor or manufacturer.